Manual
The information on this page may change as we release updated versions with changes and new functionality to be documented.
Installation
Before you can run your own music streaming server you must first install it on your computer. Simply download the latest version of Vibe Streamer, run the installation and follow the instructions in the installation program.
Configuration
After you've installed Vibe Streamer and start it for the first time you're ready to begin sharing your music. All you need to do before starting your streaming server is to add one or more users and the directories that you want to share.
Managing Users and Groups
For someone to access your stream server he requires a user account and a password. You can manage the accounts on your streaming server from the "Users and groups" tab. Right-click inside the user or group list to bring up a menu with the availible actions.
When creating a user you are only required to specify a username and a password for the login.
Creating groups is an efficient way to manage settings and permissions for your users. Having your users as members of groups can save a lot of time and give you a better overview.

Managing Shared Directories
To make a directory availible to your users you have to add it to the stream server as a shared directory. You can manage your shared directories from the "Sharing" tab. Right-click inside the share list to bring up a menu with the availible actions.
When adding a shared directory you are required to specify the path to the folder that you want to share and a virtual name, which is the name that will be displayed to logged on users. By default every logged on user will have access to your share, both setting permissions is possible on both a user and a group level.
Right after a new shared directory has been added, it will be queued for indexing. The amount of time an indexing takes depends on the total number of files the directory contains. You can view the details on the indexing progress by clicking "View / Indexing progress" in the menu.
Everytime you've made changes to the shared directory, the directory has to be re-indexed. This can be done manually but also automatically by enabling auto indexing when creating or editing the specific shared directory.
Additional Settings
Vibe Streamer does by default not require any initial configuration of the settings to run. You can tweak you installation from the "Settings" tab and can easily at any time restore to the initial settings by clicking the menu "File" and selecting "Restore default settings".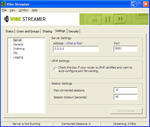 Security and Permissions
By default all of your created users will be allowed to log on to your server. For advanced administrators, it is possible to specify permission on a more detailed level from the "Security" tab. All permissions listed apply to your server. The first matching rule to deny access will always be dominating.
To manage permissions, simply-right click on the name of the site to see a list of all available actions. Permissions can be set on both a user and a group level and wildcards are supported for IP address matchings.
Start and Connect To Your Server
Before you can connect to your server it must be started by clicking the "Start" button in the "Status" tab. Now your users are able to connect to your server using only a browser. To find our the address of your server you can simply browse to www.whatismyip.com to find your IP address.
If your IP address is xxx.xxx.xxx.xxx and your port is 8081 the adress for your server would be: http://xxx.xxx.xxx.xxx:8081
Check out how to setup your server address for more information.
Free Download

Version: 3.0.2 (Nov 26 2009)
File Size: 2.9mb

Supported systems
Windows 2000 or later
Linux supported through Wine
Features
Free music streaming server
Open source (GPLv3)
Easy installation and setup
Monitor your streaming activities
No Adware or Spyware
Support Vibe Streamer

Want to support us or simply show your appreciation?